Founding Principles
Our Customers Come First – Always, there are opportunities to trim costs, save time and improve the bottom line.  However, our focus is, and always has been on our customers' perspective, desires and satisfaction.  We believe that if we pay attention to our customers, and run all decisions through a customer-centric filter, we will figure out how to make the rest of it work out.
Experience – The owner and founder of GarageCondos.com™, Glenn McWilliams, has been involved with storage condos since 2003, just after the inception of this still new and growing concept. He not only consults and assists other developers with their projects around the country, but actively develops garage condo projects in his home state of Colorado – and beyond.  Affiliated for more than 5 years with one of the largest and fastest growing developers of storage condos in the United States, Mr. McWilliams brings significant experience to the storage condo industry and especially to this enterprise, GarageCondos.com™.
Proven Track Record – With proven success building and selling over 500 garage condominium units, as well as involvement in the planning, construction, pre-sales and sales of thousands of other units in dozens of large, multi-building garage condominium projects, including several for a well-known, national brand of garage condos, the GarageCondos.com™ team offers more experience and success than any other developer of garage condos in the world.
Quality & Integrity – Mr. McWilliams has been intricately involved with the planning and creation of not just high quality projects, but the overall guiding policies and 'best practices' of two previous storage condo organizations – and has created GarageCondos.com™ with the same level of professionalism and an eye toward detail and constant improvement.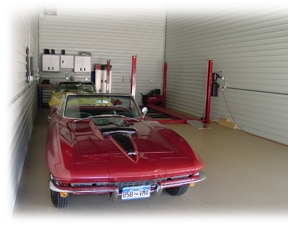 Vision / Mission / Values Who we are. What we do. Why we do it.
The GarageCondos™ Vision:
Empowering the pursuit of happiness.
Our garage condominiums improve the lives of our customers.  Owning abundant, functional, conveniently-located, well-designed, quality-built storage and work space empowers our customers to pursue the interests, lifestyle and passions that bring them happiness.  By focusing on what is important to our customer, GarageCondos™ does and will lead the industry as the premier developer of storage condominiums in the world.
The GarageCondos™ Mission:
We create, market and sell garage condominium space of the highest value to our customer.  With integrity, respect and communication, we provide the industry's best service to our customers, our affiliates, and all GarageCondos™ stakeholders.
The GarageCondos™ Value Proposition:
Value Proposition:  For less than the monthly cost of renting inferior space, GarageCondos™ provides personal, private warehouse space that better meets the needs of our customer to keep and care for their equipment, inventory or 'toys' and to pursue their passions.
The GarageCondos™ Values:
At GarageCondos™, we are passionate about the garage.
The garage is a wondrous place – full of tools and workspaces to make and fix and create.  A place to get dirty in the process; a place to dream about and work toward what is or might be driven, detailed and stored there; a place full of possibilities; but more importantly, a place of action.
Countless modern American dreamers started in their garage. Among them: Hewlett-Packard, Microsoft and Apple.  Thousands of would-be race car builders and drivers have toiled toward their dream in a garage. Contractors, inventors and many famous rock bands have their roots in garages.  The garage is a place to pursue our passions; those activities that truly bring happiness to our lives.
The GarageCondos™ "niche" rests somewhere between the inadequacies of mini-storage and the excess of larger commercial/industrial warehouse space.  But, more importantly, it is located directly in the hearts and passions of our buyers.  For a GarageCondos™ unit owner, it is all about "the project".  It may be a project car, a collection of cars, a start-up business or a family lifestyle thing (like a batting cage, golf simulator, boat or motorhome).  And, it is "the project" that drives them; that sparks their creativity; that motivates their pursuit.
For those of us with hobbies or other space-consuming passions, having a place where we can work on that project or spread out our stuff, or just organize and care for our treasures in a safe, secure and personal space is exciting, valuable and empowering.
At GarageCondos™ we choose to design and build facilities that go above and beyond mere utility and storage. And, while it is true that some of our buyers will simply recognize and respond to the beauty of owning a bigger and better storage space, most will actually use the facility as it is designed and intended.  Wired for high-speed connectivity to the outside world, each unit has ample power, abundant light and climate control.  Wide drive aisles, large overhead doors, security, surveillance, access to water, compressed air and a commercial grade car vacuum, and of course the Owners' exclusive Clubhouse with its kitchen, HDTV, WiFi, comfortable seating, etc. make for an amenity-rich garage experience for those who desire it.
There is a Place Dynamic, as we refer to it, which is more than just the sum of an impressive list of amenities.  The GarageCondos™ culture – that social aspect that makes the word "garage" a verb (and not merely a noun) starts with ownership itself.  Through ownership, and really because of it, those who are fortunate enough to garage their valuables in a GarageCondo™ will care about the physical place.  This consideration for not just their own private space, but for the overall facility translates and transcends to an overall respect and desire to participate in the GarageCondos™ community.
This common thread of ownership and caring, in combination with GarageCondos™ amenity-rich common areas provides the basis for our unit owners to come together as a community.  This is why we refer to the magic of GarageCondos™ as "Place Dynamics". To the extent unit owners share common interests, this sense of community will grow rapidly and strengthen over time.
Garage is a verb.  We recognize this and work toward further defining the meaning of the word and shifting the paradigm of what a garage is and can be.
We value profit.  And, although we do – it is not just about the money. We do not work simply for economic reward. GarageCondos™ started as a creative solution to a pervasive problem.  It continues as a quest to help others solve their storage related problems and to empower them in ways that other storage developments do not.  Our work is a response to, and in support of the pursuit of the American Dream; and more specifically, in support of our customers' pursuit of happiness.
We value people.  In our relationships with all GarageCondos™ stakeholders, in every dealing, we treat people with integrity and respect, and put forth our best efforts at communication.
We value process.  Continuous improvement in our "best practices" with an eye for adding efficiencies in our processes will translate to better projects, enhanced relationships, more marketable spaces, lower costs and higher value to our customers, not to mention higher economic returns for our investors.
We value location.  Better, more-convenient locations translate to higher sales velocity, happier customers, and more valuable projects.
We value economic value.  A GarageCondos™ unit already holds intrinsic value. By working to ensure we create economic value for our customers, we are truly empowering their pursuit of happiness.
A work in progress . . .